The Silver Plume Tea Room will be opening on Saturday May 2nd and Sunday May 3
Thursdays and Fridays ~ hours: 10:00 am - 3:00 pm
Saturdays and Sundays ~ hours: 8:00 am to 4:00 pm
---
Make your reservations now for
Mother's Day Weekend Afternoon Tea!
Mother's Day week-end: Saturday 12:00 and Sunday 1:30
Linda Goymerac at the piano
$30. per person includes Tax and Gratuity
call 303-355-7221 or 303-569-2368 to make your reservation.
---
Breakfast


Quiche $10.50 ~ served with bacon, fruit & mini cinnamon rolls


Waffles $10.50 ~ served with bacon, fruit & nuts


Granola & Yogurt $8.50 ~ served with fruit & mini cinnamon rolls

Lunch ~ $10.50
~ all served with mini cinnamon rolls, pea salad or fresh fruit


Chicken Salad ~ served as a salad or sandwich on fresh baked bread


Egg Salad ~ served as a salad or sandwich on fresh baked bread


Trio Salad ~ Chicken, Egg and Pea Salad served on a bed of fresh greens


Daily Special ~ Specials are made fresh and vary daily


~ Cottage Pie (Thursday)


~ Chicken Pot Pie (Friday)


~ Cornish Pasties (Saturday)


~ Oven Fried Chicken (Sunday)
Teatime


Cream Tea $7.00
~ Scone & Tea


Afternoon Tea $20.00
~ Reservations required
Soup du Jour


Bowl $7.50~ Includes Fruit, Bread & Cheese


Cup ~ only with meal $3.00

Pastries & Such


Pie by the slice $4.50


Pie a la mode $7.00


Caramel Rolls $4.50


Cinnamon Rolls $3.00


Bars & Cookies $1.50 - $4.50


Mini Cinnamon Rolls $ .75


Ice Cream $3.50
ordered in advance:


Whole Pie $20.00


Gluten-free Pie $27.50


Loaf of Bread $5.00 - $6.50
Beverages


Tea & Coffee $2.50 per person


Display Tea $4.50 per flower


Soft Drink $2.00


Juice $ 1.25 (small) $2.00 (large)

---
Afternoon Tea Menu


Small Chicken Salad


Cucumber Sandwich & Egg Salad Sandwich


Scone with Devon Cream, Lemon Curd & Jam


Fruit Bread


Three Varied Pastries


Choice of Tea or Coffee

---

The Tea Room is available to rent for your Special Occasion

Always Available for Private Functions

---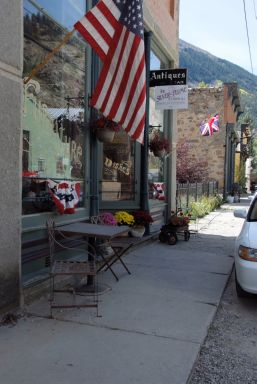 Welcome to Colorado's Best Kept Secret, Silver Plume Antique Shop, Silver Plume Tea Room and Silver Plume Tea Company. We are located in the National Historic District of Silver Plume, Colorado near Georgetown, 50 miles west of Denver on Interstate 70.

Silver Plume Tea Shop, Tea Room and Antique Shop is housed in what was originally a mercantile and later "The Miner's Saloon". The building was built in 1889 of Silver Plume granite after the fire of 1884. The interior captures the original atmosphere with an ambiance of the past. Our outdoor tea garden offers the opportunity to take in the beautiful Colorado Rockies.

The antique shop has been in operation since 1959, when Dorothy Hatfield acquired the building. In 1984 Dorothy's daughter Sarah Franklin and her husband Wilson took over the business and later added the tearoom. In late 2001 the Silver Plume Tea Company was established.

The business has now grown and offers breakfast, lunch, baked goods and afternoon tea by reservation. The shop has developed a reputation and attracts a loyal patronage from the rocky mountain region.

Please browse our web pages to learn more about us and our selection of teas, accessories, and our wonderful antique filled tea room.